Illegal Items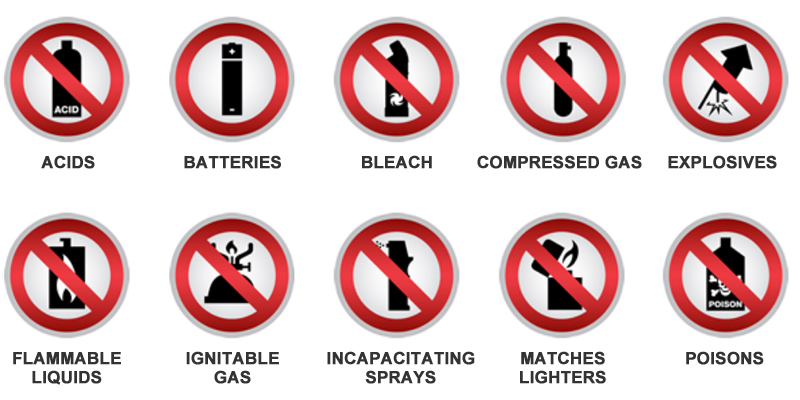 Restricted & Prohibited items may vary depending on your shipping method or your shipping provider. You can find a list of typical Restricted and Prohibited items on our door-to-door courier website. We always recommend that you check the restricted and prohibited items guidelines of your chosen airline or carrier prior to sending your shipment.
Restricted items can be sent on our services however you will not receive any compensation if the items are lost or damaged. Restricted items are sent at your own risk and no cover is offered. Enhanced Transit Liability cover does not apply to restricted items.
Prohibited items cannot and must not be sent under any circumstance. If your shipment is found to contain prohibited items you may be fined and your consignment will be destroyed.
THE FOLLOWING ITEMS ARE STRICTLY PROHIBITED FROM SHIPMENT, AND MUST NOT BE SENT THROUGH OUR SERVICES UNDER ANY CIRCUMSTANCE. ANY OF THESE ITEMS BEING SENT MAY RESULT IN PROSECUTION, HEAVY FINES AND IMPRISONMENT.
• Aerosol cans / sprays/ any kinds of body sprays
• Airbag Modules
• Animal skins / Furs / Any Animal Parts including meat / Ivory and ivory products
• Any item that is not boxed
• Articles of exceptional value (eg, works of art, antiques, precious stones, gold and silver) over £250 NB Gold or Silver over £50
• Box with Hazardous label – Items sent with a Hazardous label attached will be classed as such. DO NOT RE USE OLD HAZARDOUS BOXES
• Cheques or Tickets that are not named
• Dangerous goods – eg Explosives / Fireworks / Christmas Crackers / Radioactive Materials / Deactivated or Replica Weapons and Munitions / Firearms / Swords / Knives / Axe / Weapons
• Dry Ice
• Engines / Generators / Gearboxes or any part containing or having contained oil/petrol unless flushed through
• Fire Extinguishers / Life Jackets
• Food items (Perishable) Outside the EU
• Goods moving under ATA Carnet and all temporary exports and imports; goods moving under FCR, FCT an CAD (Cash Against Document)
• Hazardous materials eg Paint / Adhesives / Chemicals / Flammable resins/ solvents/ liquids / Compressed Air / Items containing any gases – See Also Household goods
• Household goods containing flammable or corrosive liquids, such as oven or drain cleaners / perfume, aftershave/ hairspray/ nail varnish and remover/ antiseptic wipes …
• Human Remains / Body Fluids
• Liquids / Adhesives / Paint / Oil
• Live / Dead animals
• Magnets or items containing ferro-magnetic material
• Money, Keys, Negotiable items / Payment cards
• Passports / Birth Certificates / Driving Licences
• Pornographic materials
• Medication (Prescribed Drugs considerable )
• Tobacco and tobacco products
• Wet or Lithium Batteries (Not including Dry Cell)